Governor Mike DeWine appoints Juan Jose Perez to The Ohio State University Board of Trustees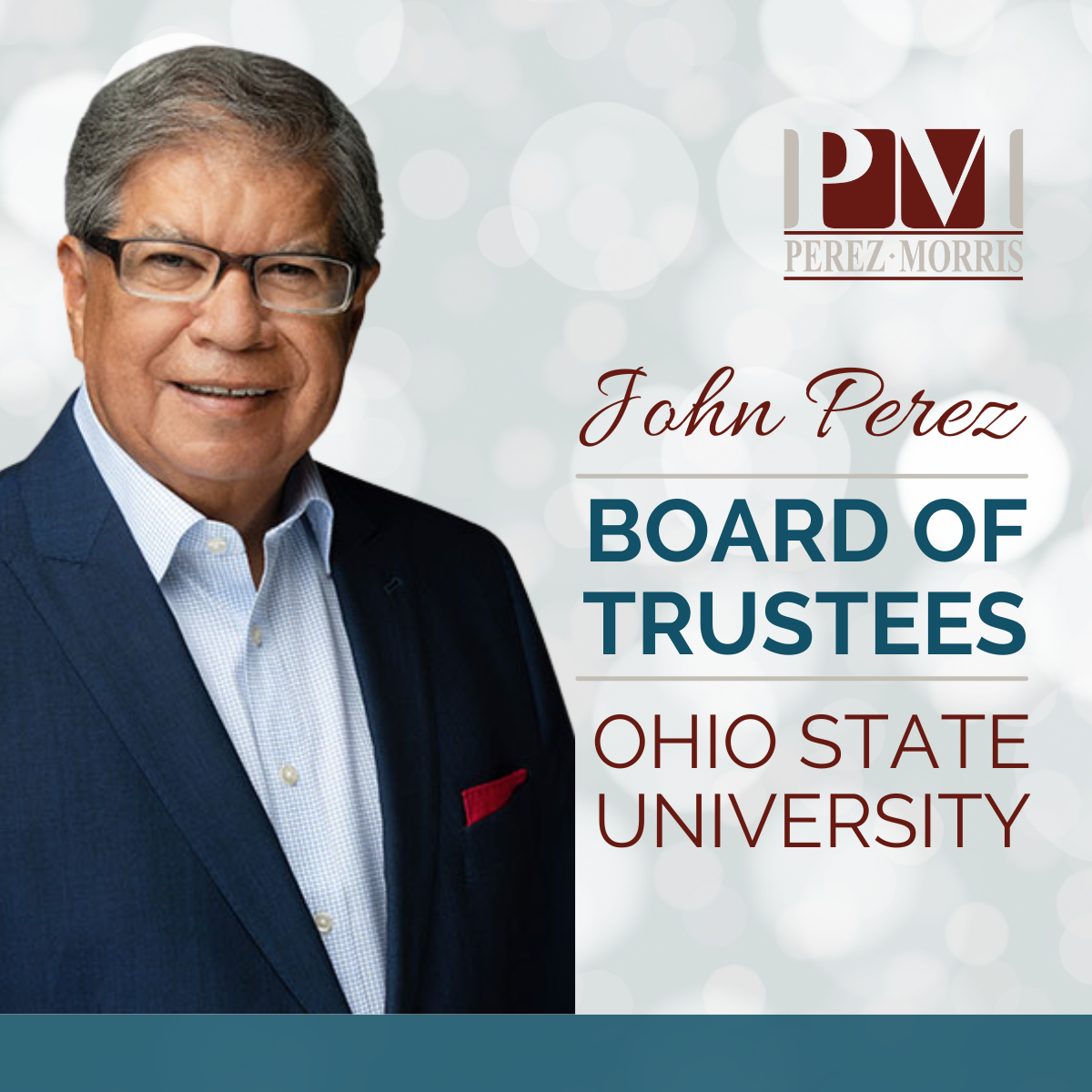 Ohio Governor, Mike DeWine, appointed Juan Jose (John) Perez, founding member of Perez Morris, and resident of Westerville, Ohio, to The Ohio State University Board of Trustees on November 4, 2022.
John founded Perez Morris in 1997, which grew to become Central Ohio's largest Hispanic-owned law firm, before becoming Ohio's largest certified women-owned law firm in 2022. John's law practice focuses on complex commercial and business litigation including all forms of corporate transactions. Prior to founding Perez Morris, John was General Counsel and Vice President of Administration for a publicly-traded international corporation.
Throughout his career, John has been consistently dedicated to community outreach efforts such as founding Vista Village, Inc., a nonprofit with a new, innovative model to address homelessness in Columbus, and serving as past Chair of the Board of the Mt. Carmel Hospital system, past Chair of the Governance Board of the Make-A-Wish Foundation of Ohio, Kentucky, and Indiana, and on the Board of Trustees for the University of Toledo.
"We are excited for John to continue following his passion for community involvement by serving the people of Ohio as a trustee of The Ohio State University," says Sarah Perez, managing partner of Perez Morris.
About The Ohio State Board of Trustees
The Ohio State University is governed by a board of 17 governor-appointed trustees who are responsible for oversight of academic programs, budgets and general administration, and employment of faculty and staff. The governor of Ohio appoints 15 voting Ohio residents who serve nine-year terms and two voting student trustees who serve two-year terms. Additionally, the board selects up to three non-voting, non-Ohio residents to serve as charter trustees for three-year terms.
About Perez Morris
Perez Morris is a women-owned business law firm with offices in Ohio, Pennsylvania, New York, New Jersey, Connecticut, and Massachusetts, and attorneys licensed to practice across the country.  We guide our business clients to manage their risks and make deals happen. We provide general counsel, business litigation, and commercial transactional services nationwide with a focus on cost-effective, practical, industry-savvy advice that allows our clients to continue to grow and thrive.
Read media coverage here:
Columbus Business First (December 15, 2022) – Ohio State adds John Perez, Perez Morris founding partner, to board of trustees
NBC4i.com (December 16, 2022) – Ohio State adds John Perez, Perez Morris founding partner, to board of trustees