Perez Morris Announced as Presenting Sponsor of Columbus Eagles FC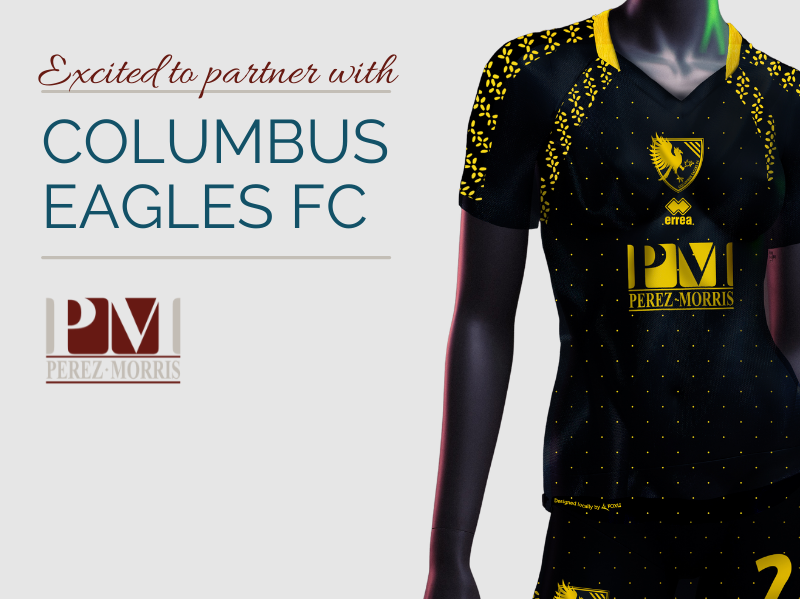 Perez Morris is proud to announce its sponsorship of women's soccer team Columbus Eagles FC. Headquartered in Columbus and being a women-owned law firm, the partnership is a perfect fit.
"Our firm is passionate about being deeply involved in our community," said Managing Partner Sarah Perez. "Supporting the Eagles FC aligns with our values of teamwork, dedication, and uplifting women."
One of Perez Morris' core values is giving back to the community in which it does business. In addition to its sponsorship of the Eagles FC, the firm has deep roots in various Columbus charities including the Overcomer Foundation and Vista Village.
Since the Eagles FC's inception in 2014, the club has brought a high level of play to women's soccer in Columbus.
"Today, the Columbus Eagles FC is proud to announce Perez Morris as the club's presenting sponsorship partner. Their support allows the Eagles to work toward our goal of bringing the absolute best soccer to Central Ohio," says Mark Wise, Owner of Eagles FC. "We are grateful for their business connections, and being woman-owned and led is a plus for us. We will work hard for them to be the best we can be."
The club has continuously grown in strength and fans – even with a whole season being cancelled due to Covid. Through the partnership, Perez Morris and Eagles FC have a shared commitment to continued contribution to the team's success, the growth of women's sports in Central Ohio, and the creation of an expanded fan base.