Perez Morris bolsters liability litigation capabilities with arrival of Gibley and McWilliams, P.C.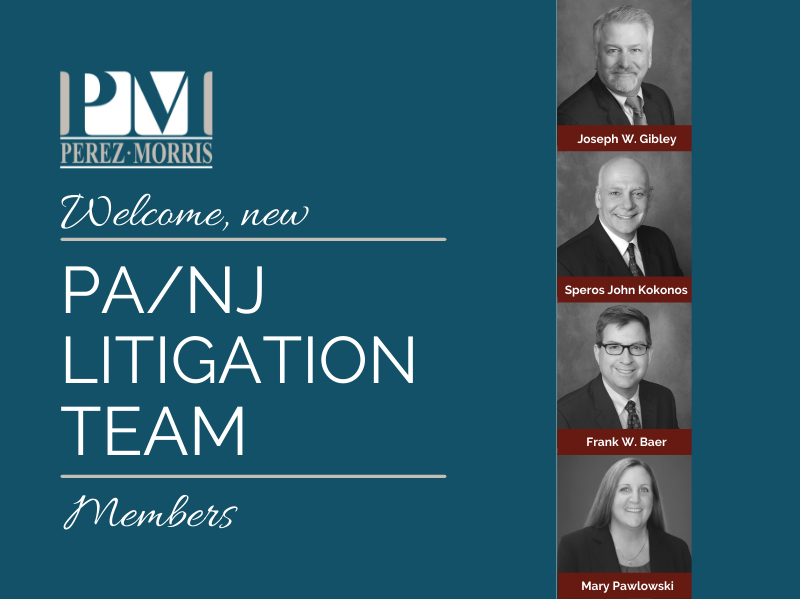 Perez Morris announced today a significant addition to the law firm's liability litigation services including in transportation, construction, municipal & emergency services, and premises liability practices. Seasoned litigators and trial lawyers from Gibley and McWilliams, P.C. including  Joseph W. Gibley, Frank W. Baer, Speros John Kokonos, and Mary Pawlowski joined the firm, establishing an office in Media, the second Pennsylvania office in addition to the firm's Philadelphia location.
"We are pleased to welcome Gibley and McWilliams." said Firm Managing Partner Sarah Perez. "We share a commitment to client service, and our combined resources and experience will benefit our clients significantly."
The team brings diverse experience to the firm in specialty areas including auto negligence, construction litigation, medical malpractice, product liability, worker's compensation, and insurance defense litigation. The group has also represented heavy highway contractors, general contractors, subcontractors, and owners in construction site disputes.
"This addition takes our capabilities and Pennsylvania presence to another level," said Pennsylvania Managing Attorney Dave Bronstein. "We are thrilled to welcome Joe, Frank, Speros, and Mary to the Perez Morris family–I know they will add enormous value to the firm."
Gibley and McWilliams is recognized for its experience in defense casualty litigation and was founded to protect its clients in all phases of litigation, including discovery, resolution and, if necessary, trial.
"Perez Morris has a phenomenal culture and we share the same values," said Gibley "I am looking forward to joining this vastly talented team."