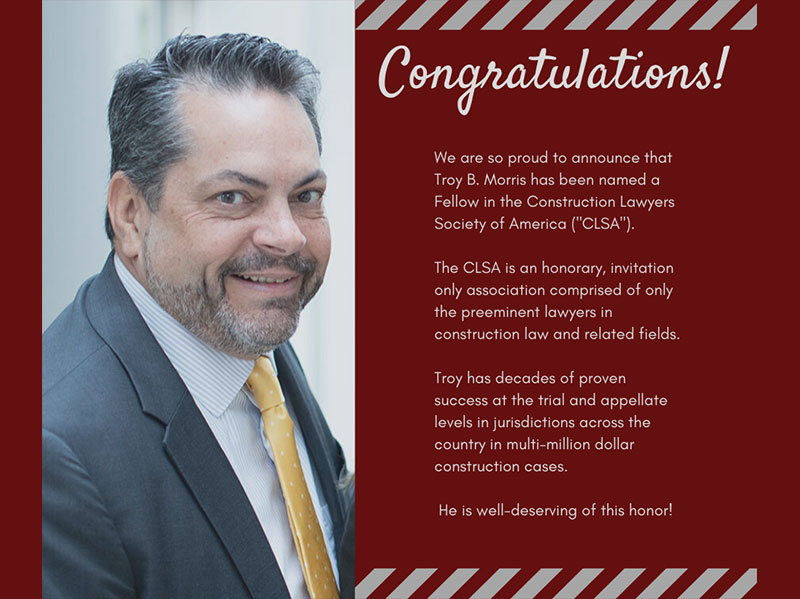 Troy B. Morris named fellow of Construction Lawyers Society of America
Columbus, Ohio attorney Troy B. Morris, of the law firm Perez & Morris LLC, has been selected as a Fellow of the Construction Lawyers Society of America. Mr. Morris is a founding member of the firm and has practiced construction law for over thirty years. A 1986 graduate of Kent State University, Mr. Morris received his Juris Doctor degree from the University of Cincinnati in 1989. He has represented numerous clients in both federal and state courts, and arbitration proceedings. Mr. Morris regularly represents owners, architects, contractors and subcontractors in construction matters, including mechanic's liens, bonds, defects and other issues. He served as counsel for Sears, Macy's, Abercrombie & Fitch and Express in the $60 million Roseville Galleria fire loss.
The CLSA is an invitation-only international honorary association composed of preeminent lawyers specializing in construction law and related fields. Fellowship is limited and selective, with lawyers being invited into Fellowship upon a proven record of excellence and accomplishment in construction law at both the trial and appellate levels. Lawyers nominated or selected may be in any discipline in the construction law arena, including contract specialization, negotiations, litigation, arbitration, appellate and/or surety law, but who have in addition superior ethical reputations. The CLSA seeks a high level of diversity in its selection process. Fellows are generally at the partner or shareholder level, or are independent practitioners with recognized advanced status among their peers. The CLSA is dedicated to promoting superior advocacy and ethical standards in construction law and fostering a scholarly and advanced exchange of ideas in all practices related to the specialty.
Mr. Morris has received the prestigious Martindale-Hubbell Peer Review Rating of AV Preeminent. This rating puts Mr. Morris in the elite group of approximately 10 percent of all attorneys worldwide and signifies that many lawyers within his practice area community rank him at the highest level of professional excellence for preeminent legal ability, very high ethical standards and excellent communication skills. He has also been recognized as a 2020 Top Lawyer by Columbus CEO.