Cleveland office adds Workers' Compensation services and team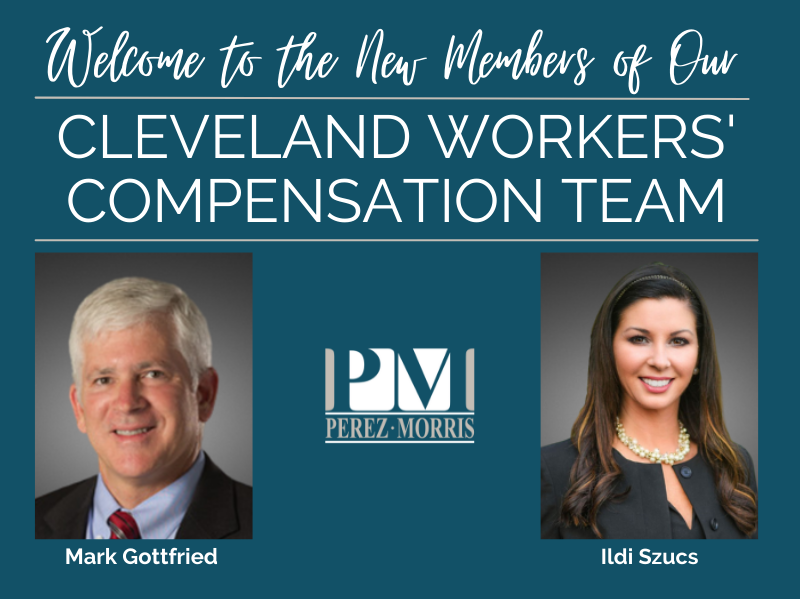 Perez Morris announced today the launch of workers' compensation services in the law firm's Cleveland, Ohio office. This addition to the firm's current offerings includes two specialized workers' compensation attorneys in Cleveland to help Ohio businesses navigate an influx of claims across the state. This is an important expansion of Perez Morris' already strong workers' compensation team, historically based in Columbus.
"The Ohio worker's compensation system is complex, and the Perez Morris Cleveland office now has the resources to meet all workers' compensation needs," says Sarah Perez, firm managing partner. "Our lawyers represent state fund and self-insured employers in administrative hearings before the Industrial Commission of Ohio, in writ of mandamus matters before the Ohio Tenth District Court of Appeals, and in appeals before Ohio Courts of Common Pleas. We also handle workplace intentional tort actions."
The Cleveland workers' compensation group will counsel the largest healthcare organization in Ohio as well as construction, skilled nursing facilities, staffing agencies, and a variety of small businesses on their immediate and future workers' compensation matters. The team brings more than three decades of experience to the firm and believes that now more than ever no business is immune to claims.
According to Workers' Compensation Attorney Mark Gottfried, "given the direct impact that efficient and effective handling of these claims has on the workforce, the better businesses handle and manage these claims, the more productive they will be.
Workers' compensation claims have evolved during the pandemic. With the great resignation and labor shortages, claims are becoming more lengthy, resulting in delays in employees returning to work. In addition, Gottfried expects that businesses will start to see an increase in remote claims in the coming year. Legislation in the pipeline will likely provide ground rules for such claims.
Gottfried suggests that claims create a moment for leaders to consider better ways to support employees and a checkpoint to make sure employees are in the right roles, accomplishing the right tasks to support company and personal growth. Perez Morris encourages businesses to proactively address workplace risks, incident protocols, and ways to collaborate and engage with employees from day one.