Perez Morris Announces New Leadership in Cleveland – Strategic hires expand the Columbus-based firm's offerings to include medical malpractice and pharmacy liability defense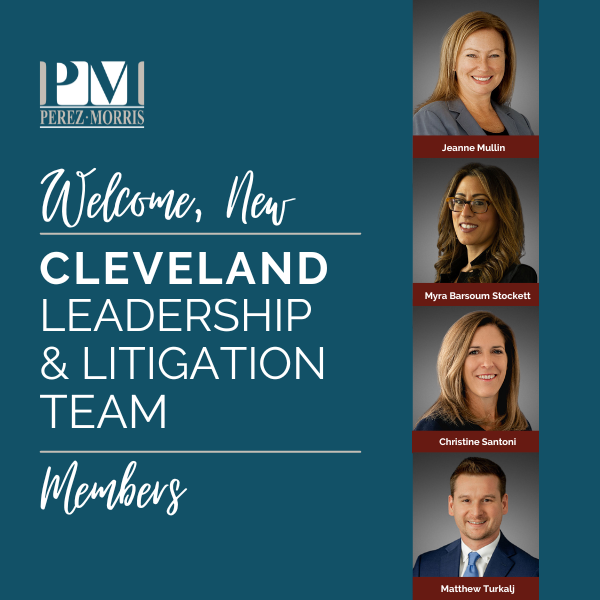 Perez Morris announced today that it welcomes four new attorneys to its Cleveland office. Myra Barsoum Stockett, Jeanne Mullin, and Christine Santoni join the Perez Morris team from Reminger Co., LPA, each bringing a tremendous amount of expertise in their fields of practice. Matthew Turkalj has also joined from Reminger as a key member of the group.
"We are pleased to welcome Myra, Jeanne, Chris, and Matt to the Perez Morris family," said Perez Morris' Managing Partner, Sarah Perez. "These strategic hires add to our ever-growing bench of accomplished women trial lawyers and is a significant step in our efforts to expand the scope of top-quality service for our clients."
These additions will bring medical malpractice and pharmacy liability defense to Perez Morris and greatly enhance the workers' compensation department in Cleveland. Mullin will chair the firm's medical malpractice department and will co-manage the Cleveland office with Barsoum Stockett, who will also lead the workers' compensation group in Cleveland.
"We are eager to get started and to build on the exceptional work being done here," said Mullin. Mullin, a Cleveland native, brings 23 years of medical and pharmacy law experience with her, along with numerous recognitions, including most recently being honored as Best Lawyers' "Lawyer of the Year 2022 – Medical Malpractice Law – Defendants – Cleveland." "Combined, Chris and I have tried over 100 medical malpractice jury cases, and we look forward to forging this new path together."
Barsoum Stockett likewise has over 23 years of experience and is highly regarded among her peers. "This move will provide an opportunity for me to build on the existing workers' compensation reputation of Perez Morris and to continue to grow this practice area in Cleveland," she said. "I am excited to not only focus on workers' compensation but also to expand our employment law group and help grow the Perez Morris footprint in Northeast Ohio."
This latest expansion follows Perez Morris' acquisition of the Giffen & Kaminski firm last year, making Perez Morris the largest certified woman-owned law firm in the state of Ohio.
About Perez Morris
Perez Morris is a woman-owned business law firm headquartered in Columbus, Ohio, with offices in Ohio, Pennsylvania, New York, New Jersey, Connecticut, and Massachusetts, and attorneys licensed to practice across the country. We guide our clients to manage their risks and make deals happen. We provide general counsel, business litigation, professional and general liability defense, and commercial transactional services nationwide with a focus on cost-effective, practical, industry-savvy advice that allows our clients to continue to grow and thrive.
Read Press Coverage Here:
Cleveland Business Journal (February 6, 2023) – Perez Morris adds four attorneys to Cleveland law office
Crain's Cleveland Business (February 7, 2023) – Perez Morris law firm names inaugural co-leaders for its Cleveland office